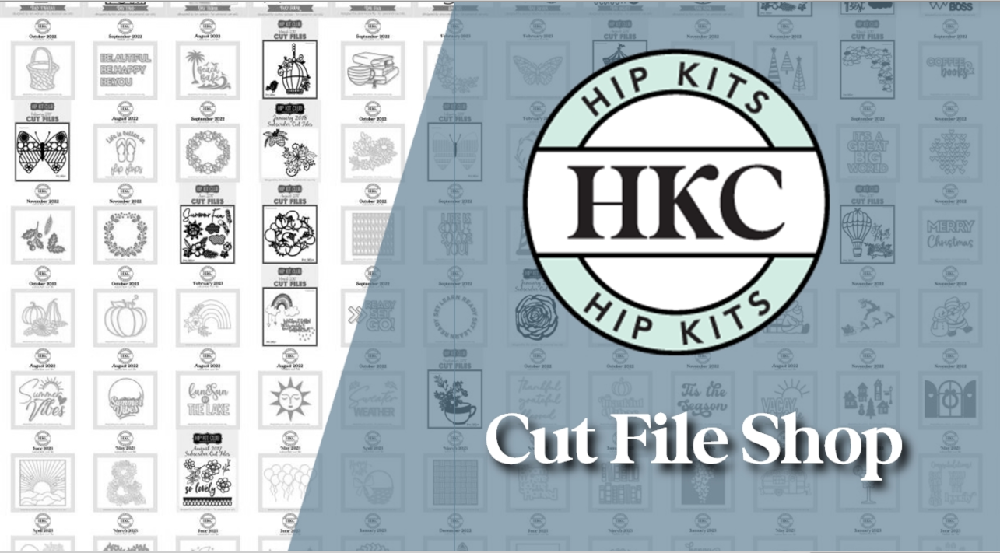 Our Hip Kit designers have created 1000's of amazing cut files over the years. These cut files have been carefully designed following the Hip Kit design aesthetic and are of the highest quality you will find anywhere. We have been hard at work organizing our cut file collection to make it easy to find exactlly what you are looking for. We have cut files for every occasion so make sure to read on to find out how to find exactly what you are looking for by checking out our Cut File Shop!
What's Available?
Choices, choices and... more choices! Explore 1000+ cut files.
Looking for something specific? Navigate effortlessly through our collection; we've got them organized just right for you.
From birthdays to anniversaries, and every little occasion in between, we've got a cut file for you!
Exclusivity is our middle name! Yup, these designs? Only for the eyes and hands of our precious Hip Kit customers. 😉
See them in action! Our designers use our cut files extensively in their layouts so you will always have lots of inspiration!
Check back often! We are always adding new cut files to our collection so make sure to keep an eye out.
How can I get them?
Cut files are available to everyone! Whether you are a Hip Kit Club member or just browsing.
Register for Freebies! A selection of the cut files are available for FREE to Registered customers.
Membership has it's benefits! Hip Kit Club members get access to all cut files FREE of charge.
Just interested in the cut files? No problem - any cut file can be purchased individually!
Ready to Get Started? 🚀
New to the world of cut files? Don't sweat it! We've got your back with a handy Getting Started Guide. Dive into it and emerge a cut file pro!
Interested in Free Cut Files? We offer some of the cut files FREE - make sure to Register to get access.
Want the full experience? Our cut files perfectly complement our kit offerings. Join the Hip Kit Club - members get access to all cut files FREE of charge.
Ready to explore?

Hop into our Cut File Shop

! ⭐
We drop new cut files regularly, so make sure to check back frequently to see what's new!
Thanks for being a part of our Hip Kit family. We can't wait to see the magic you create with our cut files. Remember, every craft tells a story, and we're elated to be a chapter in yours.
Until next time, keep those scissors snipping and creativity flowing! ✨💖